Roll over image to zoom in
Click to open expanded view
PC CASE DARKFLASH DLM22 Micro ATX / Mini ITX Tower WHITE Glass Side Panel
₱3,000.00 (-7%)
Color
White
Case Size
360*208*425mm
Material
Chassis : 0.6mm SPCC
Motherboard
M-ATX, ITX
HDD / SSD
2 or 1 / 2 or 3
Expansion SlotS
4
Max. VGA card
350 / 330mm
Max. CPU Cooler
160mm
Power Supply
210mm, Bottom
FRONT I/O
USB 3.0 (x1) / USB 2.0(x2) / HD AUDIO
Front panel
Metal
left & right panel
Tempered glass
Cooling System
Front : 120mm fan*2
Rear : 120 mm water-cooling / 120mm fan*1
Top : 240 water-cooling / 120mm fan*2 / 140mm fan*2
Computer case only Fans not included
Compare

FLY TO UNLIMITED!
DarkFlash has been constantly devoted to designing and manufacturing suitable components of computer hardware, and not only challenging but exceeding itself in style and details. For PC builders looking for a case that has excellent expandability, a clean, modern look, but also doesn't want to take up too much space, the darkFlash DLM is the best choice for you.?
PRODUCT FEATURES
Door Opening Design
Door opening side panel with magnetic design, it is easy to disassemble and tool free.Excellent Light Effect
The black side glass shows the light effect in a low profile way. Meanwhile, the overall tempered glass design makes the inner view of the chassis broad.
High-Quality Structure
0.6 mm SPCC is painted to form the metal structure with impressive beauty
240mm Water-Cooler Compatible
It could install 120mm*2/140mm*2 air cooler and 240mm water cooler, making more options for users.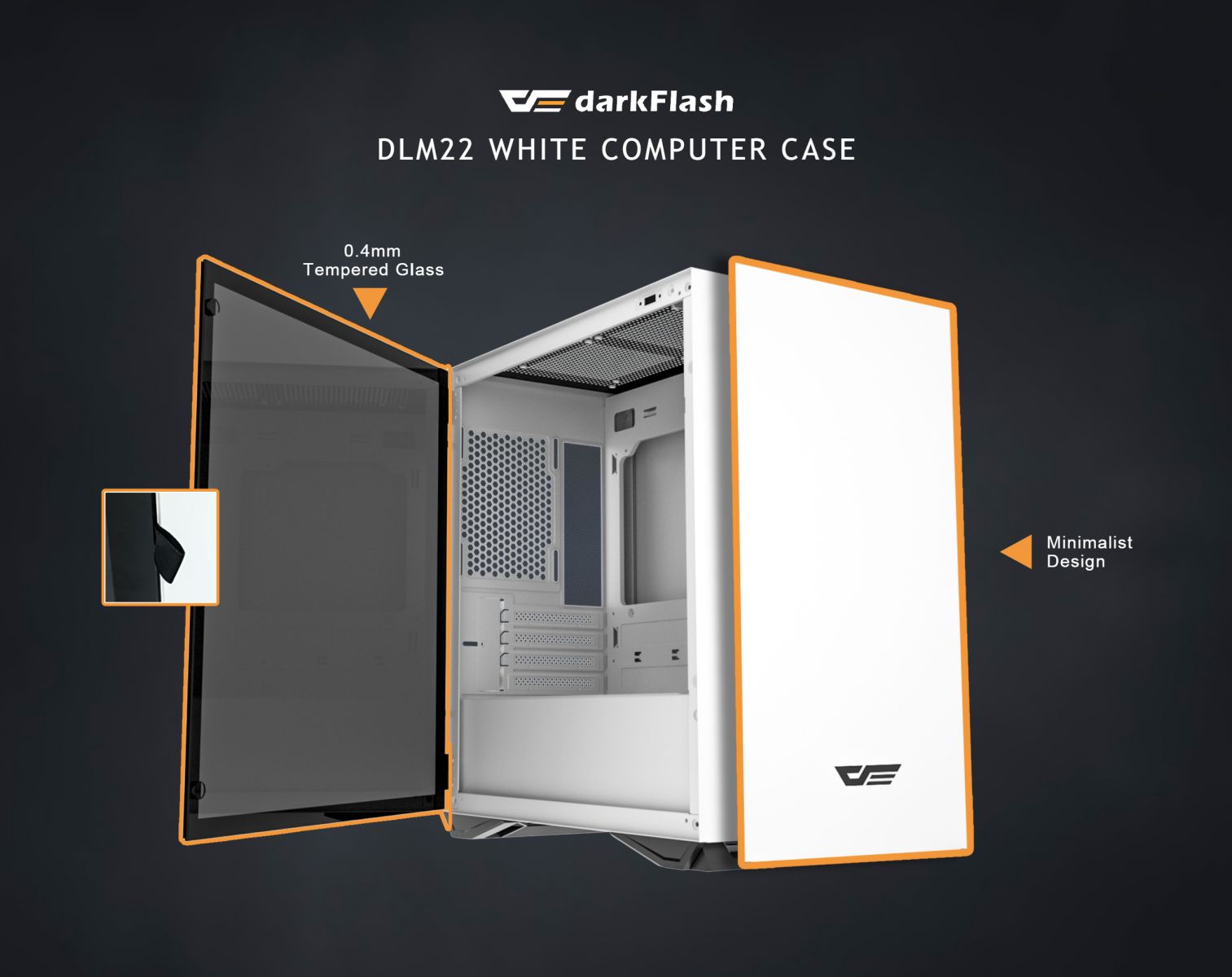 PRODUCT DETAILS
Minimalist Design
The metal painting is adopted in the front panel, with a perfect match with RGB light strips at side to achieve a simplicity design.
Fine Ventilation Performance
The air inlet design of right panel, not only have a good-looking but also cool effectly.
USB 3.0 Ready
The high speed transmission effieciency of USB 3.0 is equipped at top, which brings about much convenience.
Maximum CPU Cooler Height: 165mm
Maximum GPU Length: 330mm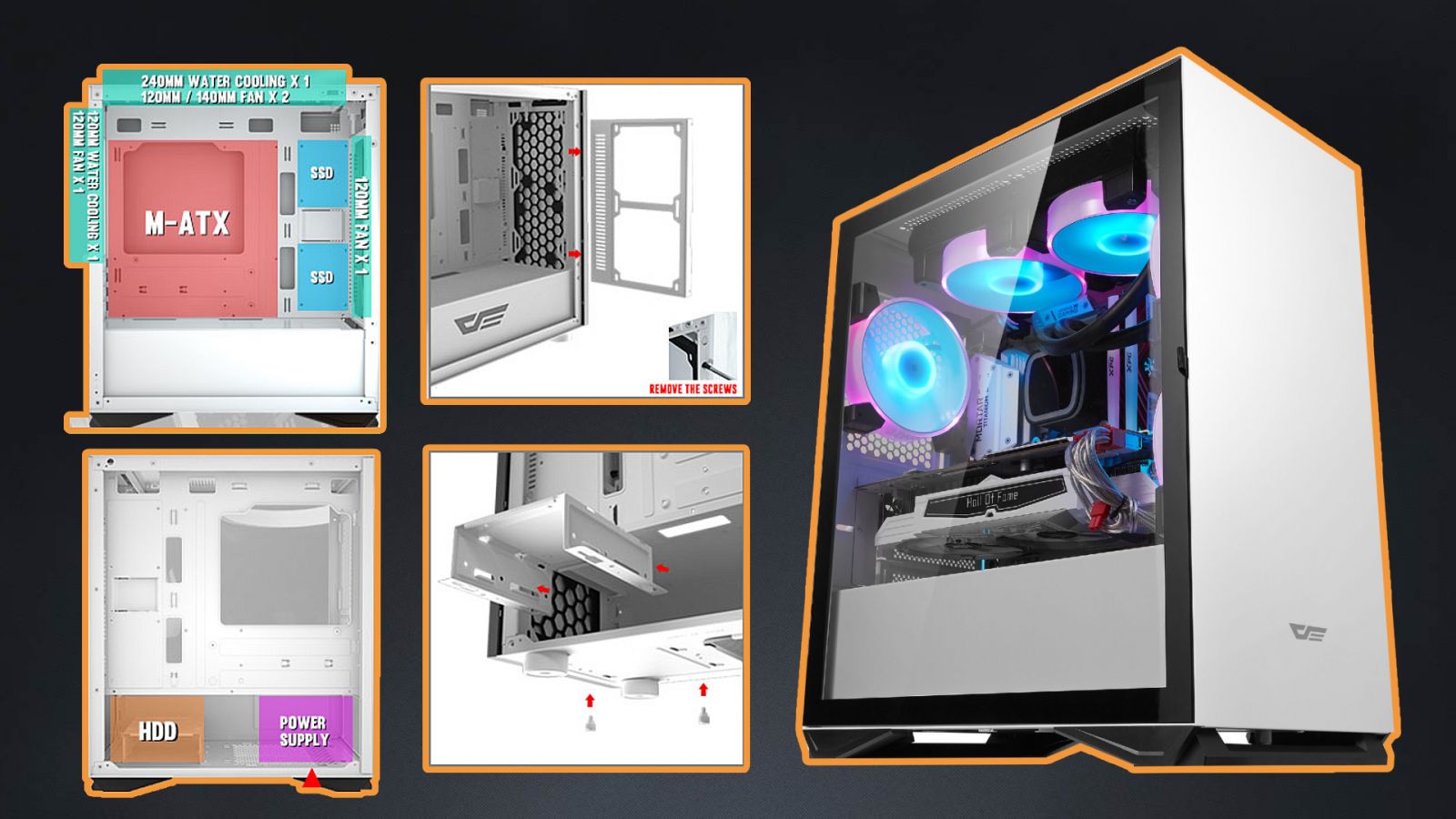 Brand
Darkflash
Color
White
Case Size
360*208*425mm
Material
Chassis : 0.6mm SPCC
Motherboard
M-ATX, ITX
HDD / SSD
2 or 1 / 2 or 3
Expansion SlotS
4
Max. VGA card
350 / 330mm
Max. CPU Cooler
160mm
Power Supply
210mm, Bottom
FRONT I/O
USB 3.0 (x1) / USB 2.0(x2) / HD AUDIO
Front panel
Metal
left & right panel
Tempered glass
Cooling System
Front : 120mm fan*2
Rear : 120 mm water-cooling / 120mm fan*1
Top : 240 water-cooling / 120mm fan*2 / 140mm fan*2
Computer case only
Fans not included