ACER ASPIRE ES1-432-C9DX (DENIM BLUE) Intel Celeron DualCore N3350 (1.1Ghz-2.4Gz, 2Mb Cache) 14" HD LED, 2GB DDR3 RAM 500GB SATA HDD Windows 10 Free: Bag & Wireless Mouse
Model : ES1-432-C65J – Midnight Black
                                        ES1-432-C8YD Rosewood Red
                                        ES1-432-C9DX Denim Blue
Operating System : Windows 10
Processor : Intel Celeron N3350 1.10 GHz Processor (2M Cache, up to 2.4 GHz)
Memory : 2GB DDR3
Hard Disk : 500GB 2.5-inch 5400 RPM
Display Screen : 14-inch HD 1366 x 768 resolution Acer CineCrystal LED-backlit TFT LCD,
16:9 aspect ratio, Mercury free, Environment friendly
Graphics : Integrated Intel HD Graphics
Audio : High-definition audio support, Two built-in stereo speakers, Built-in microphone
Dimension : 343 (W) x 245 (D) x 29.2/25.4 (H) mm (13.5 x 9.65 x 1.15/1 inches)
Weight : 2.1 kg (4.63 lbs.) with 4-cell battery pack
Battery Type : 37 Wh 2500 mAh 14.8 V 4-cell Li-ion battery pack
Battery Life : Up to 4 hours (based on video playback test result)
Network  : 802.11b/g/n wireless LAN
Bluetooth 4.0
Bluetooth 2.1+ EDR
Gigabit Ethernet, Wake-on-LAN ready
Camera : Acer Webcam with;
640 x 480 resolution
I/O Ports : SD Card reader
USB 2.0 port
USB 3.0 port
HDMI port with HDCP support
Ethernet (RJ-45) port
DC-in jack for AC adapter
3.5 mm headphone/speaker jack, supporting headsets with built-in microphone
Carrying Case : Acer Carrying Bag
Warranty : 1 Years Warranty
Out of stock
Compare
Description
Add style to everyday computing
Aspire ES series notebooks inject a fresh blast of color1 and style into everyday computing. 
Along with a number of useful enhancements, you'll work and play comfortably, efficiently, and with flair.
Their black exteriors, beautifully textured top covers, and hints of colors 
on their edges provide a unique, sophisticated look with a satisfying tactile feel.
Pop open the top covers and the flamboyant side of the notebooks will be revealed
in a blast of color of your choosing1. The inside surfaces also feature textured patterns
 to offer a cohesive look and feel inside and out.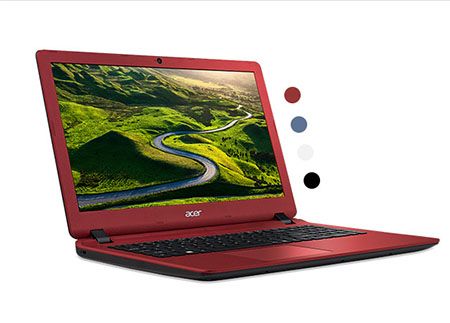 With BluelightShield™ software, irritating blue light is filtered out from the screen to 
reduce eye soreness during prolonged screen viewings.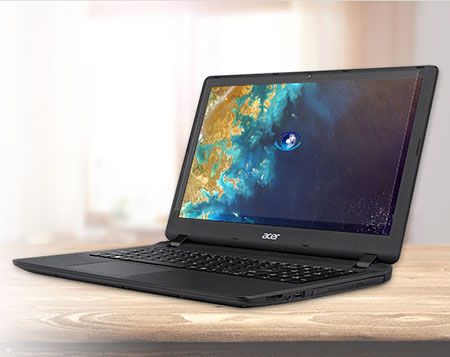 Enjoy a more intuitive touchpad navigation experience with Precision Touchpad. 
It allows for smoother zooming and scrolling than regular touchpads.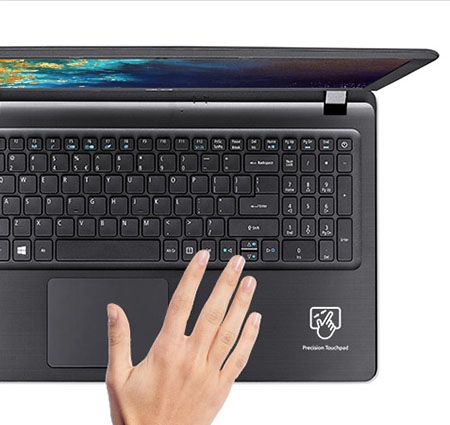 Model : ES1-432-C65J – Midnight Black
                                        ES1-432-C8YD Rosewood Red
                                        ES1-432-C9DX Denim Blue
Operating System : Windows 10
Processor : Intel Celeron N3350 1.10 GHz Processor (2M Cache, up to 2.4 GHz)
Memory : 2GB DDR3
Hard Disk : 500GB 2.5-inch 5400 RPM
Display Screen : 14-inch HD 1366 x 768 resolution Acer CineCrystal LED-backlit TFT LCD,
16:9 aspect ratio, Mercury free, Environment friendly
Graphics : Integrated Intel HD Graphics
Audio : High-definition audio support, Two built-in stereo speakers, Built-in microphone
Dimension : 343 (W) x 245 (D) x 29.2/25.4 (H) mm (13.5 x 9.65 x 1.15/1 inches)
Weight : 2.1 kg (4.63 lbs.) with 4-cell battery pack
Battery Type : 37 Wh 2500 mAh 14.8 V 4-cell Li-ion battery pack
Battery Life : Up to 4 hours (based on video playback test result)
Network  : 802.11b/g/n wireless LAN
Bluetooth 4.0
Bluetooth 2.1+ EDR
Gigabit Ethernet, Wake-on-LAN ready
Camera : Acer Webcam with;
640 x 480 resolution
I/O Ports : SD Card reader
USB 2.0 port
USB 3.0 port
HDMI port with HDCP support
Ethernet (RJ-45) port
DC-in jack for AC adapter
3.5 mm headphone/speaker jack, supporting headsets with built-in microphone
Carrying Case : Acer Carrying Bag
Warranty : 1 Years Warranty