ADATA HD720 1TB USB 3.0 Water/Dust/Shockproof
Capacity: 1TB
ultra durable external hard drive with a sporty design
Waterproof, Dustproof, Shockproof
Triple Layer Protection
G Shock Sensor Protection
Out of stock
Compare
Description
ADATA HD720 USB 3.0 Water/Dust/Shockproof Ruggedized Portable Hard Drive
All-weather-protection mobile data storage solution
ADATA HD720 ruggedized USB 3.0 portable hard drive is waterproof, dustproof and meeting military-specification as shockproof for extreme mobile data protection. Unique casing design meet or exceed stringent International Electrotechnical Commission (IEC) IP68 standards and certified as truly waterproof and dustproof.
For additional toughness, HD720 is certified to meet or exceed US DoD MIL-STD-816G 516.6 drop test specifications as shockproof. Triple-layer case construction provides ample shock-absorbing protection from all angles. G-shock warning sensor automatically starts flashing red when HD720 encounters severe impact/shock.
HD720 delivers ultra-fast USB 3.0 performance with maximum data transfer rate of 5 gigabits per second. Storing, transporting and sharing data on-the-go is made easy with HD720. HD720 is available with different capacities and in three vivid colors, Black, Green and Blue.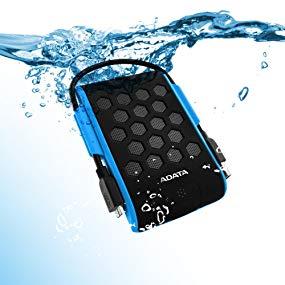 IP68 Water and Dust Proof Certified
The HD720 meets exacting IP68 testing standards*, offering excellent water and dust protection. It works reliably even in very dusty environments or after being submerged in 2 meters/6.6 feet deep water for up to 120 minutes.
*IP68 is the most demanding and widely-recognized standard for water and dust resistance in electronic devices. Relevant requirements are determined by the IEC, or International Electrotechnical Commission.
Tough Shock Test Qualified
The HD720 passes 1.8 meters drop testing, which is stricter than demanding military-grade MIL-STD-810G 516.6 requirements, making it ready for handling sudden harsh drops, shocks, and crashes.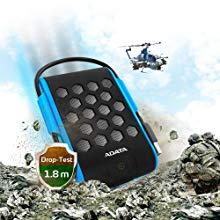 Triple-Layer Protection
The triple-layer construction of the HD720 incorporates exceptionally elastic silicone material to provide great shock absorption from all angles.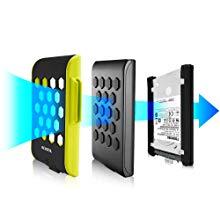 G-Shock Sensor Protection
G-Shock sensor technology helps protect your data. The HD720 automatically stops drive operations in the event of a shock to prevent data corruption, and resumes work once the shock has subsided. It uses color-coded light indicators to display different operational states for user-friendly information delivery so you always know what's going on.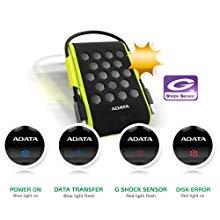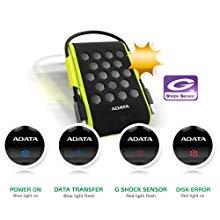 Wrap-Around USB Cable
The USB cable tucks into a groove that encircles the drive casing, providing elegant cable management to match the highly practical overall design of the device.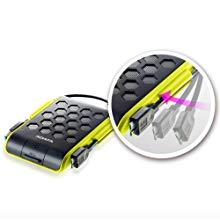 Specifications of ADATA HD720 1TB Waterproof Shockproof and Dustproof External Hard Drive (Neon Mango)
Brand

Adata

SKU

AD262ELAA2Q6K7ANPH-5515028

Model

Infoworx-0000023702

Compatible Operating System

Universal

Input Type

USB

Warranty Type

Local Manufacturer Warranty

Warranty Period

1 Year

Hard Disk (GB)

1TB
What's in the box
1 x ADATA HD720 1TB Waterproof Shockproof and Dustproof External Hard Drive (Yellow Mango)
1 x manual
1 x cable